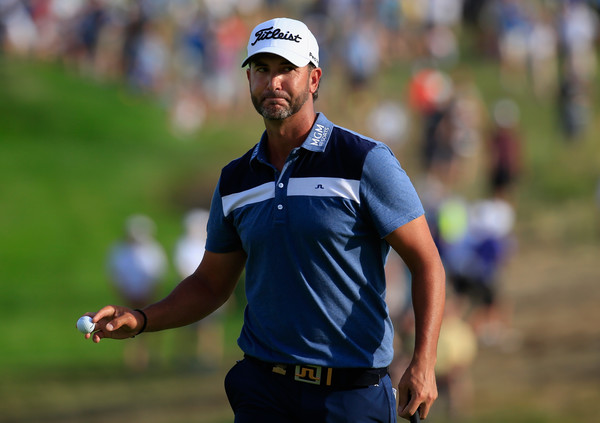 Q. How would you sum up where you are right now? How are you feeling?
SCOTT PIERCY: My feet feel like they're on fire. My calves feel like they're on fire. I'm excited to be done.
It was a good day overall. Putter let me down a little bit in the afternoon, but the ball striking was really pretty amazing today in the afternoon for sure.
17 of 18 greens at Oakmont is — in U.S. Open conditions. I really only missed one fairway in the long stuff. And the one that I missed in the long stuff I made a birdie, so I was able to squeeze it out. I was never really in a lot of trouble.
There's a lot of positives. Go work on the putter. I think I know what I'm doing to kind of open it on the way back and keeping the blade open through. So going to go hit a few putts and work on that a little bit.
Q. (No microphone) are you happy to keep yourself in a red number going through Saturday, third round play?
SCOTT PIERCY: Yeah. I mean, any time you can be in the red at a U.S. Open is great.
Like I said, I was a little disappointed with the putter in the afternoon. I three-putted No. 4 from like seven feet and I missed a number of putts. Seemed like I had seven feet four or five times today and couldn't shake them in the hole or I'd just misread them. I'd see two putts go right and mine would go left. Just kind of weird stuff. Just stayed really patient about it and kept hitting good shots.
Q. Did the greens get more difficult in the afternoon?
SCOTT PIERCY: Well, they double cut and they rolled them before the — so the speeds were a lot tougher. The lag putting was a lot tougher, so that's why you'd have five, six, seven feet coming back. Just the seven-footers for birdie, I mean, you're lagging those because it's like a two or three percent grade downhill. Those you're just trying to hit it like six inches and so it's kind of at the mercy of the — is it going to break, is it going to go through it.
Q. When is the last time you played 36 in a day? And how difficult was that?
SCOTT PIERCY: Maybe when I tried to qualify last year, possibly. It's tough. Especially here. It's something we never want to do, really, but it called for it today and we try to be in pretty good shape. And I was able to pull through it.
Q. There are many challenges out there, much to be made of the course. What, for you, is most demanding out there, most challenging?
SCOTT PIERCY: It all is, really. I mean, somebody was asking me that last night. There's really nowhere to miss. You have to hit in the fairways. They give you — now that it's soft, the fairways and the first cuts are wide enough to play.
When it was firm, the fairways were almost, they were playing about ten yards wide, which is hard to hit. But a lot of holes, you can't really miss in the bunker. You've got to lay it up out of it. If you get it in the long stuff, you're kind of chipping out. If you miss it on the wrong side of the pin, you're almost three-putting every time.
So every shot is so demanding, the putts. It's all — you're always having to think about the next shot. Okay, where's our miss? It's left. You can't hit it in those bunkers. Where's the next shot in the green? I got to be long. Over the green in the rough is better than on front of the green. So every shot you hit out here requires your attention.
Q. Do you like your position?
SCOTT PIERCY: Yeah. I mean, I think tomorrow the guys will probably have a little faster greens than we had this afternoon. I think the USGA is going to keep pushing them a little bit.
It will be a little firmer, a little faster as long as the weather holds, which it's supposed to, I think. Any time you're under par, I think you're going to be in it.
Q. You can go rest now.
SCOTT PIERCY: Okay.